It's time for another food review. This is about Kyoto and all the good food it has to offer.
On our first night, we decided we wanted to have all-you-can-eat hotpot. The first time we were in Kyoto back in Nov 2012, MF, LW and I went to an all-you-can-eat hotpot place and we all still remember how good it was. The meat they served back then was really good! Unfortunately, we did not have a name or remember the exact location of the restaurant so we thought if we just wandered about in the general area of where we thought it was, we'd be able to find it.
But no, we didn't find it and instead found another place that had hotpot. The restaurant was upstairs and we just saw the menu placed downstairs and since it was getting late already, we just went for it.
To be honest, it wasn't the best shabu shabu I'd ever eaten. The restaurant also had yakiniku so depending on your choice they bring out the pot or a grill plate. You also have to pay extra if you wanted bottomless drinks which we didn't get. I think the meal cost 2500-3000 yen/person. It's not super expensive but I think there are better places with more value for money. Oh well, can't complain when you're hungry...
The next meal however... is a whole different story!

Kyoto is famous for tofu and when my friend told me about this tofu place that one of the members from Arashi (a Japanese boyband) had gone to in a show that she'd seen, I really wanted to go and try it out! As I mentioned previously, we'd been to Kyoto in 2012 and we had tried to come to the place but unfortunately it was at closing time. We ended up eating in a cafe opposite to it and had tofu dishes but I was disappointed that we didn't get to try the actual restaurant.
In saying that, it's more of a restaurant shop because the ground floor is the shopfront where they sell all their tofu products. The eating areas are upstairs on the second and third floors. We reached the place around 12:30-1:00pm and already they had sold out of some of the menu items. The shop pretty much closes around 3:30-4:00pm because they've sold out of most of their products and food. I don't think they open for dinner.
The above meal is what I ordered. It's a yudofu (tofu cooked in broth) set meal. I actually wanted something else but they'd sold out of it already :(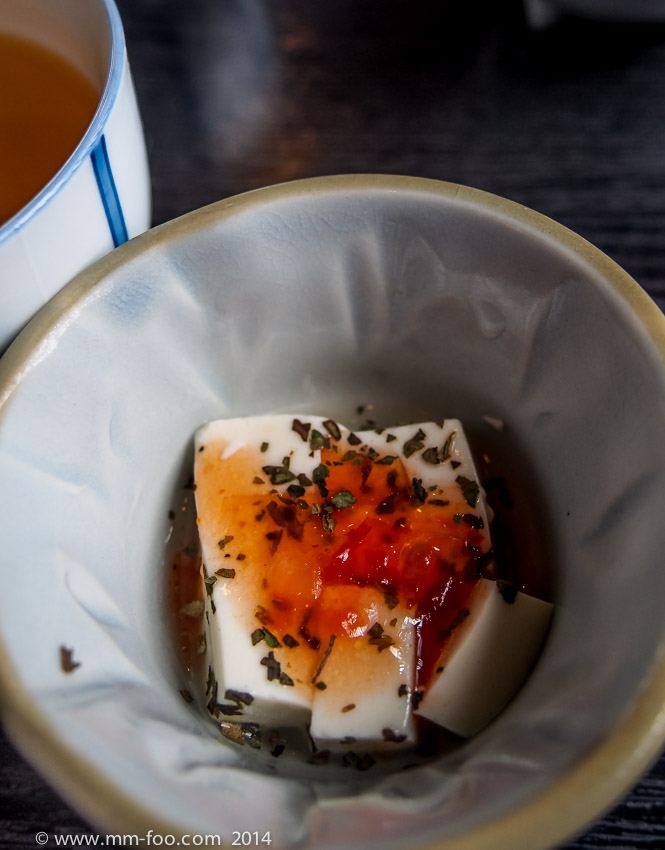 The set meal comes with a bunch of side dishes all made with tofu, beancurd and okara (soy pulp) and pickles. You get a little sieve to take out the tofu and put it onto a dish where you pour soy sauce and sprinkle green onion over it. The tofu was sooooo good. It was creamy and smooth and just melts in your mouth. It goes very well with the plain rice it's served with. Then again, Japanese rice is pretty delicious. The side dishes were all very good too. You'd think they weren't very tasty but I can say that they all most definitely were. Lots of umami. Yum.
All the side dishes look quite small but when you eat all of them together, they were pretty filling. I was really full after this meal.
The meal below is the one I ordered for MF. It's a tofu don or rice bowl. This wasn't a set meal so it came with less side dishes which was ok since they were the same as the ones I'd gotten anyway.
The rice bowl was also delicious! So much so that I almost regretted my choice of the yudofu and wished that I'd ordered this for myself instead. The tofu was soft and coated with a really savoury sauce that went awesomely with the rice. If I went back to the place, I would order this again.
And lastly, we have dessert.
While we were waiting for our meals to come, I saw the desserts menu and wanted to try one of the items. We decided on this because MF thought soymilk being used for yogurt was a unique idea.
It doesn't look like the display picture (I wanted it to be!) but it was still very good. I'm guessing they used some kind of gelatine in it because it had a viscous texture which was smooth but soft. Maybe a little like a custard? The little coloured dots are dollops of fruit jam which added a nice sweetness to it. I would also order this again.
The whole meal wasn't too expensive given the quality of the food. My set meal was 1100 yen and MF's was 700 yen and the yogurt was 350 yen.
It was extremely lucky that we chose to go the day before because when we went back the next day, it was closed! If any of you do want to go to the restaurant, it's pretty much opposite Kitano Tenmangu Shrine.
This next restaurant was recommended to me by my friend CS in Singapore. She went there when she was in Kyoto and praised it highly. It's called The Yoshokuya Kichikichi. You need a reservation to eat at the place because it's very small (8 seats) which you can do online via their website. The website also has the menu and prices.
We had quite a bit of trouble finding the place even though we had the address and Google maps to guide us because it's located in a small alleyway in between buildings. The signage isn't very big either.
We were the first guests of the evening with only the chef and his friend there. The friend was sitting at one of the chairs and pretty much slept the whole time we were there lol. I was really amused. The chef apologised and said it was because they had been playing softball during the day and that's why the friend was tired out.
We ordered just two dishes: soup of the day and the famous omurice. We would have ordered more but the menu wasn't cheap. The omurice cost 2500 yen! Omurice isn't known as a fancy dish (it's more of a children's dish) so the price was kind of steep.
However! This chef is pretty famous. Apparently he's been on TV quite a number of times and his restaurant has been featured in shows so maybe that explains the pricing? Plus, his omurice is quite fancy.
The soup was creamy and light but that was it - nothing spesh . And the omurice? I thought it tasted quite good but MF thinks it's overrated for what it is and although good, it was not amazingly good. For the price we paid, I would have to agree because we had a much cheaper meal (the tofu place) for better food even though it's not completely fair to compare the two since they are two different cuisines.
We then ventured into Nishiki market which is a long shopping street that sells all things food related. MF was interested in this tako tamago so we bought one for him to try.
When we went to Nishiki in the morning, it was bustling with people and a lot of the shops had samples of their wares for people to try. I'd imagine if one were sly enough, one could fill himself up just by walking to the different stalls and eating the sample food.
We tried a few things and then saw a takoyaki and decided to get some. This was not the best takoyaki - I didn't feel it was very flavourful, somewhat watery and lacking crispiness, but it helps when you (i.e. MF) have the munchies.
The other thing we saw were these yomogi mochi being grilled over charcoal. It puffs up over the heat and deflates once off. The outside was crisp and the inside was hot, sticky mochi. I enjoyed it :)
The packet below is Take-gohan which is bamboo shoot rice. Bamboo shoots sprout in spring and takenoko gohan is a spring dish which is very popular in Japan. Actually bamboo shoots is very popular in spring. We had quite a few dishes that contained it while we were travelling around.
I had wanted to try it out so we bought the onigiri shaped rice. The rice had a very subtle aroma to it and the bamboo shoot was nice and crunchy. It would have been nice if we'd been able to try freshly made take gohan though.
Omelette with eel in the middle. This was really yum. There were a few stalls selling the tamagoyaki with the eel but after looking around, we went back to the cheapest one to get it. The egg was soft and fluffy and nicely savoury.
Last but not least, this is the patisserie that was near our hostel accommodation. We went there on our way to the train station to head back to Osaka on our last day.
They had very yummy looking cakes in their display. Wish I could have sampled all of them.... I love Japanese style cakes! Anyway, we ended up getting their purin (pudding) (which we don't have a picture of, sorry) and something else that I can't remember. The purin was really creamy and delicious. But then again, I love purin! /biased.
There you have it.
Till the next meal or snack...